A tale of an old photograph
Baiba Šuvcāne
In the autumn of 2020, the archives of the UL Livonioan Institute were supplemented by materials collected by Livonian activist and the heritage custodian Alvīne Veinberga (1926–2019). Among the materials was a photograph from the opening ceremony of the Livonian National House on August 6, 1939, in which two plays were performed: "Night and Day" and M. Zīverts' "Tīreļpurvs".
The same photograph is also a part of my archive with an indication that the photograph shows the performers of the staging of the "Īe ja pǟva" ("Night and Day"). In it, my mother, Valda Marija Šuvcāne (b. Blūma, 1923–2007), played the main role of a young girl and once added a description to the photograph. I found the event program, and by examining these materials, it can be concluded that the photograph shows members of the two performances.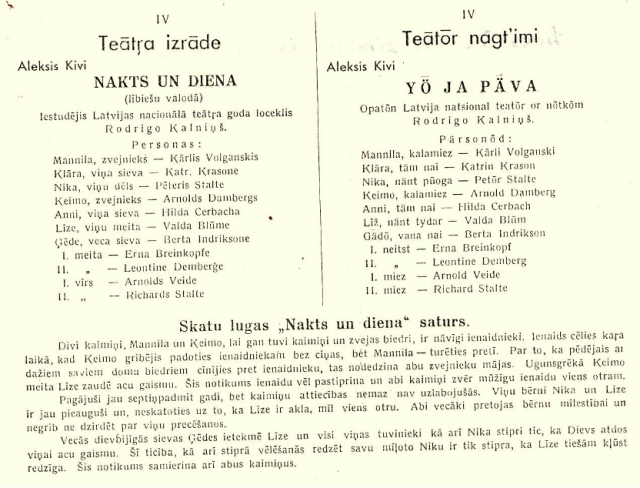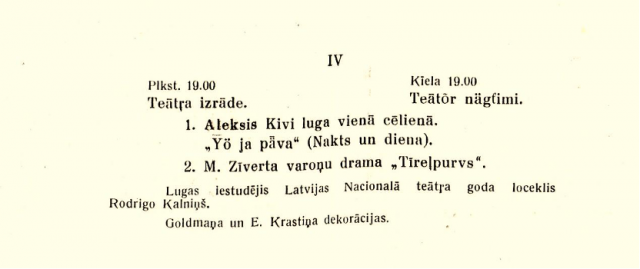 The play "Night and Day".
Participants of the performances Aleksis Kivi's "Night and Day" and Mārtiņš Zīverts' "Tīreļpurvs" at the opening of the Livonian National House
August 6, 1939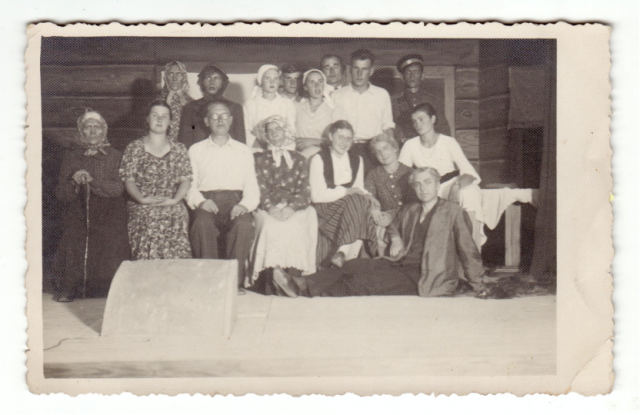 First row from the left:
Berta Indriksone (date of birth: 1892), from Mazirbe's "Lauri"
Margarete Stalte (1902–1978, Germany), the daughter of the Livonian poet Kārlis Stalte, the conductor of the Livonian choir, the compiler of a song collection, participated in the creation of the monthly magazine "Līvli" in 1933–1939. In March 1941, also a music teacher at the Mazirbe school, she emigrated to Germany
Rodrigo Kalniņš (1883–1940), an actor at the National Theater, he stayed in Mazirbe during summers and helped direct the performances
Hilda Cerbaha (married: Grīva, born in Sīkrags, 1910–1984), a music teacher, conductor, leader of the Livonian ensemble "Kandla", also composed songs
Valda Blūma (married: Šuvcāne, born in Lielirbe, 1923–2007), researcher of the Livonian cultural heritage, author of books, long-term member of the Livonian ensemble "Līvlist", teacher of Livonian language
Elīza Miezīte (1901–1979), Actress of the National Theater, spouse of Rodrigo Kalniņš
Elvīra Poļakova, speculation that she was not one of the performers
Emīls Krastiņš (1898–1978), sitting in front, head of Mazirbe station, director of Mazirbe amateur troupe
Second row from the left:
Katrīna Krasone (dz. Fletnova, 1890–1979), from Košrags "Kinne Dīķi", Livonian folklore narrator
Arnolds Dambergs, from Sīkrags "Ķeļķi", brother of the Livonian cultural worker Pēteris Dambergs, father of the artist Baiba Damberga
Erna Breinkopfa (married: Vanaga, 1925–2010), from Sīkrags "Ziedulejas", The daughter of the chairman of the Livonian Union Pēteris Breinkopfs, she was able to communicate well in her native language Livonian until the end of her life, tale-teller for Latvian and Estonian scientists
Arnolds Veide (1922–2003), from Košrags
Leontīne Demberga (married: Ūdre, 1913–2007), from Mazirbe "Vecvalgani"
Rihards Stalte (date of birth: 1908), the son of Didriķis un Līze Stalte from Mazirbes "Astari"
Vilis Stalte (date of birth: 1910), marked as Pēteris Vilhelms Stalte in the Dundaga population files, lived in Kolka "Viļņi"
Kārlis Volganskis (1915–1942, Russia), from Košrags "Nourpiedagi", the son of the Livonian social worker Didriķis Volganskis, who was deported in 1941, died in 1942; also played the role of Praporšchik in "Tīreļpurvs"
The National Research Programme project "Digital Resources for Humanities: Integration and Development"
Nr. VPP-IZM-DH-2020/1-0001